INTENSIVE ESSENTIALS CBD Cream
Fast Relief for Aching Muscles and Joints.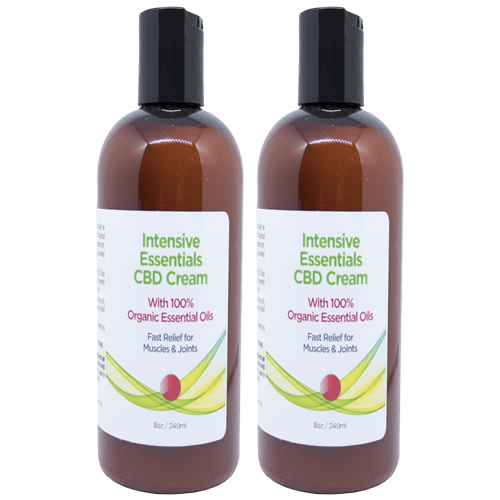 Intensive Essentials CBD Cream
A 100% natural product that produces spectacular results quickly…..VERY QUICKLY.
RELIEVES Discomfort.

RELIEF for Sore Muscles and Stiffness.

POWERFUL Anti-inflammatory.

MOISTURIZES the skin.
LARGE 8oz Bottle.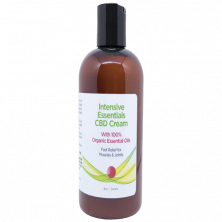 Ingredients
The primary active ingredients in the Intensive Essentials CBD Cream are a blend of 100% Organic CBD Oil and Organic Camphor, Eucalyptus, Peppermint, Sweet Orange, Lemon, and Rosemary Essential Oils.
Ingredients that make up the moisturizing cream are: Sunflower Seed Oil (Helianthus Annuus),  Shea Butter (Butyrospermum Parkii), Coconut Oil (Cocos Nucifera) , Sweet Almond Oil (Prunus Amygoalus Dulcis) and Vitamin E.
Other ingredients are: Vegetable glycerin (AKA glycerol), Vegetable cetyl alcohol (from coconut) and Glyceryl Stearate (AKA Glyceryl MonoStearate) which is the natural glyceryl ester derived from the palm kernel and pure water.
FAQs
Q) How fast does the cream work?
A) Generally, very quickly. Within 10 minutes is average.
Q) How long does the relief last?
A) While the relieving effects vary from person to person, we have numerous reports of 6-8 hours of relief.
Q) Can the cream be used anywhere on the body?
A) The cream is a body lotion. Do not apply near the eyes or mucous membranes. Also, do not apply to open cuts or surgical incisions.
Q) How much of the cream do I need to use.
A) The short answer is very little. Basically only use enough to cover the effected area and massage it into the skin. Penetrates quickly to relieve aches and pains, providing natural pain relief. Repeat every 6 hours or as needed.
Product Brochure