Ellagic Insurance Formula
While we can't escape free radical exposure, antioxidants are known to be one of our best defenses and our EIF is an EXTREMELY POTENT antioxidant formula.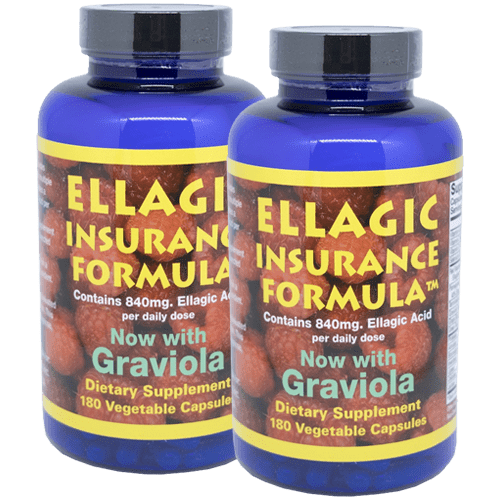 Ellagic Insurance Formula with Graviola:
The Ellagic Insurance Formula is based on ground-breaking research suggesting that extracts of certain plant phytochemicals have therapeutic healing effects in the body that are often greater than the physiological benefits experienced from eating the whole plant or the average daily amount of fruits and vegetables traditionally consumed in the Great American Diet.
This unique nutraceutical supplement combines therapeutic levels of polyphenols from plants: ellagitannins (Ellagic Acid) from Raspberries, Pomegranates and Terminalia Chebula; oligomeric proanthocyanidins (OPC) from whole grape extract; catechins from Green Tea; Graviola; and 7 Plant Based Digestive Enzymes; together with the antioxidant vitamins A, C, E and the mineral Selenium to create an EXTREMELY POTENT antioxidant formula.

There is a reason, that for the past 20 years, we have shipped this product to numerous International Cancer Clinics.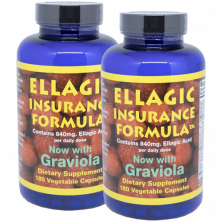 Ingredients
Red Raspberry Powder: 514 mg Ellagitannins / Ellagic Acid
Pomegranate Extract: 686 mg Standardized to 70% Ellagic Acid.
Provides 480mg Ellagic Acid.
Terminalia Chebula Extract: 400 mg Standardized to 90% Ellagic Acid.
Provides 360mg Ellagic Acid.
Graviola: 600 mg
Whole Grape Extract: 100 mg provides Biovin OPC & Resveratrol
Green Tea Catechin: 100 mg
Vitamin A: 5000 IU as Natural Beta Carotene
Vitamin C: 60 mg as Ascorbic Acid
Vitamin E: 30 mg as d-alpha tocopherol succinate
Selenium: 200 mcg as Selenomethionine
Enzymatic Delivery System:
Protease: 48,000 HUT
Amylase: 7,200 SKB
Bromelain: 600,000 PU
Invertase: 90 Sumner
Lipase: 320 FIP
Cellulase: 420 CU
Lactase: 90 ALU
FAQ
Q) What is the recommended daily dose?
A) 6 capsules per day.
Q) What is the recommended time to take the product?
A) It makes no difference. Some people take all 6 first thing in the morning and some split the dosage into two 3 capsule doses morning and afternoon.
Q) Is the product a "Clean Label" product?
A) Yes, the Ellagic Insurance Formula is encapsulated in vegetable capsules and is a totally "Clean Label" product.
If you are unfamiliar with this term, it means that there is nothing in the product except the natural ingredients. NO chemical binders, fillers, or preservatives whatsoever are used. While we still need to use flowing agents in the production processes, we use only ORGANIC Rice Bran and Rice Concentrate.
To better understand just how powerful a product the Ellagic Insurance Formula is, please take the time to listen to the audio below.
While this was recorded on Public Health Radio back in 2002, the information it provides is just as relevant today.