If you could rewind your Biological Clock 10 or even 20 years, how much would your quality of life improve?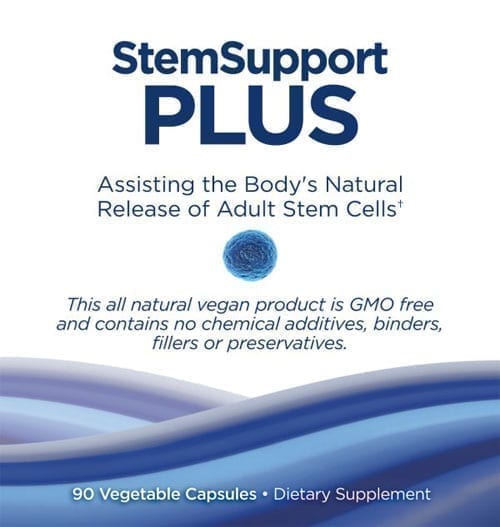 StemSupport PLUS is scientifically formulated using ingredients clinically proven to support the body's natural release of adult stem cells as well as providing telomere and immune system support.

Massive amounts of validated scientific research in the last 20 years (over 6,000 studies) has conclusively proven that adult stem cells, working at optimal levels, provide the platform for increasing our cellular health.
Scientists have also proven that the more adult stem cells we have circulating in our body, the healthier and stronger we are to fight off disease and the aging process.
There is, however, one major problem regarding adult stem cell production that we all eventually face.
THE PROBLEM: The older we get, the LESS adult stem cells our bodies produce, which can accelerate the aging process. This tends to result in still further reductions of adult stem cell production.
THE SOLUTION: Assist the body's natural release of adult stem cells, boosting the number of circulating adult stem cells with StemSupport PLUS.
The Stem Cell Report
The Stem Cell Report explains why maximizing your own Stem Cell production is so critical to your overall levels of health, well-being and longevity. This is particularly important for those over the age of 50 who are already starting to deal with some of the less pleasant effects of the aging process. The Stem Cell Report explains in detail why using relatively inexpensive Stem Cell Nutrition products is a much more cost-effective solution than spending $5,000 – $30,000 on Stem Cell Therapy treatments.
Nutritional Facts
FAQs
Q) What is the recommended daily dose?
A) 3 capsules per day.
Q) What is the recommended time to take the product?
A) First thing of a morning. With or without food.
Q) Is the product a "Clean Label" product?
A) Yes, the StemSupport PLUS is encapsulated in vegetable capsules and is a totally "Clean Label" product.

If you are unfamiliar with this term, it means that there is nothing in the product except the natural ingredients. NO chemical binders, fillers, or preservatives whatsoever are used. While we still need to use flowing agents in the production processes, we use only ORGANIC Rice Bran and Rice Concentrate.
Product Brochure
If you wish to further investigate the incredible properties of Stem Cells in detail, please click on the image below to download a totally free copy of "The Stem Cell Report".